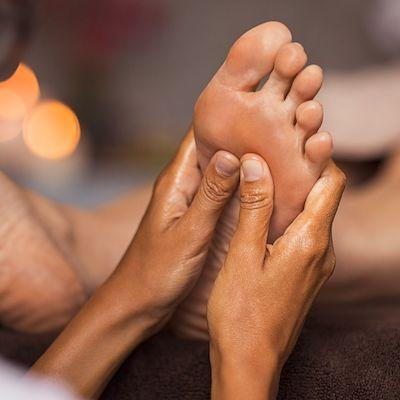 Giving a foot massage can be a relaxing and therapeutic experience and can provide meaningful connection between the giver and the receiver. Whether you want to become a professional or are just looking to pamper a loved one, here are some tips for giving a great foot massage.
Create a Relaxing Environment
To start, make sure you create a comfortable setting with a chair or couch where the receiver can sit and relax. Dim the lights or light some candles to create a calming atmosphere and ambience. You can also play soft music to further enhance the relaxation.
Use the Right Techniques
Begin by using your hands to apply pressure to the sole of the foot. Use your thumbs to apply pressure to the arch of the foot and your fingers to massage the toes. Use circular motions and apply firm but gentle pressure. Apply massage oil to the feet or hands to help keep the skin supple and moisturized. Be sure to communicate with the receiver throughout the massage to ensure that they are comfortable with the pressure.
Pay Attention to the Receiver's Reactions
As you massage the foot, pay attention to the receiver's reactions. If they flinch or pull away, it is likely a sign that you are using too much pressure. On the other hand, if they are not giving you much of a reponse to your massage, you may need to apply more pressure to stimulate the nerves in the foot.
Focus on the Reflexology Points
The feet contain many reflexology points that correspond to different parts of the body. For example, the ball of the foot corresponds to the heart and lungs, while the heel corresponds to the lower back and intestines. By focusing on these points, you can provide a more targeted and effective massage.
Finish with a Moisturizing Cream
After the massage, apply a soothing cream or lotion to the feet to help moisturize and protect the skin. You can also use essential oils such as lavender or peppermint to further enhance the experience.
Put it into practice!
Knowing how to give a good foot massage can be extremely beneficial not only for yourself but to who you are giving the massage to! The combination of technique and the right ambience can truly provide a therapeutic and enjoyable massage for all!
If there is any pain, tenderness, or discomfort that arises during the massage, be sure to stop and give our podiatrists a call at any of our offices in Louisville, LaGrange, and  Our team of dedicated foot doctors at Tipton & Unroe Foot & Ankle Care provides high-quality podiatric care for the whole family. From bunions to diabetic foot care, we are here to support you and your foot and ankle needs!